6 in 1 Castle Water Combo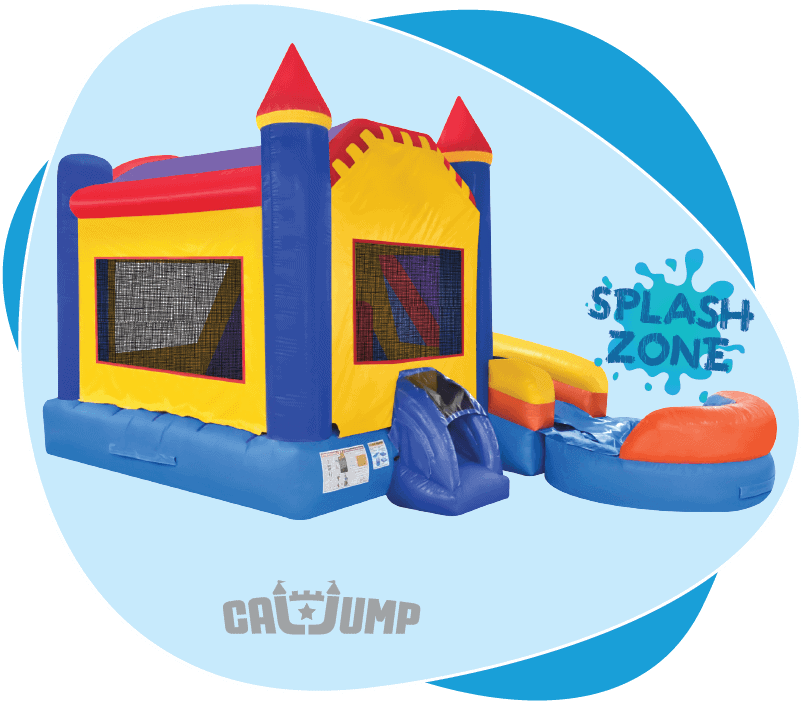 Call or text for a price quote
*Some information on this page could be missing or incorrect. Review manufacturer safety label before use. Never exceed the manufacturers maximum load for each individual ride. ADULT SUPERVISION REQUIRED AT ALL TIMES.
FREE DELIVERY. NO HASSLE.
Price includes delivery, Setup, and pick-up. We do not charge any additional fees. All units are properly anchored, and we sanitize them again during setup. *Free delivery up to 10 miles
New for 2018 is Magic Jump's very first 6-in-1 Combo unit. With its traditional yellow, red and blue color theme, this classic 6-in-1 Castle Combo Wet or Dry will spark that sense of familiarity and recognition of a fun product. This Wet or Dry combo ride features six different obstacles activities: (1) a bigger bouncing area; (2) a basketball hoop; (3) inflated push-through, obstacle pop-ups; (4) a wall climber; (5) a "high platform" wet or dry slide; and (6) a removable pool/landing for wet use.
Delivery and pickup times are scheduled based on your event. Select a delivery time at least 1 hour before your event start time. Next morning pickup is for late events, and available with an additional fee. Next morning pickups are generally done between 8am and 12pm.
It is the customers responsibility to measure the setup location to make sure rented product will fit.
Cancellations must be done within 72 hours before the rental date or else a cancellation fee up to the entire rental amount may apply. Exceptions are made for cancellations on Rainy or Inclement weather days. Maximum 10 Stairs allowed to the setup location, a setup fee will apply.
**There is a cleaning and handling fee for setup on sand.
Payment Methods: Credit Card (3.9% Surcharge), Zelle, Cash.