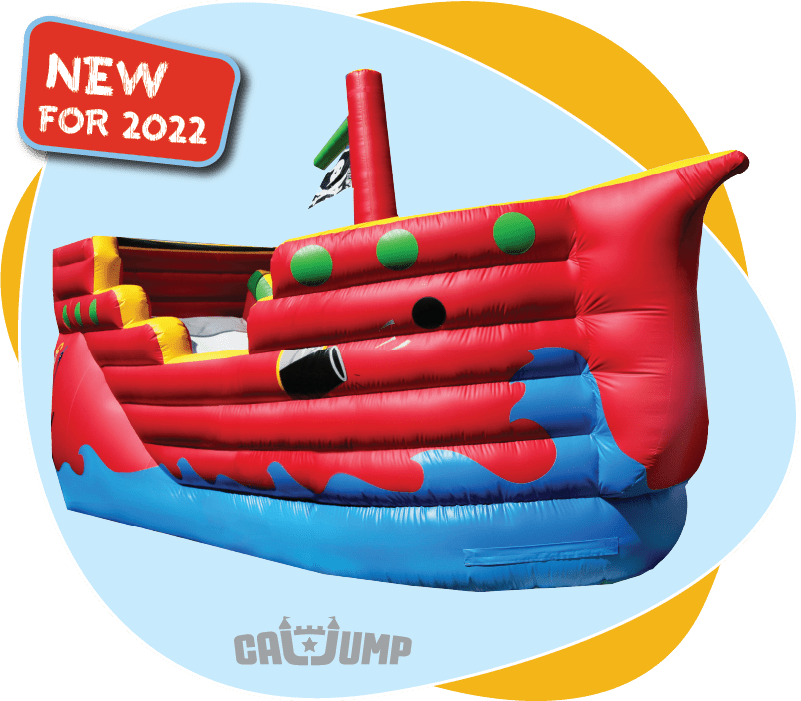 Call or text for a price quote
*Some information on this page could be missing or incorrect. Review manufacturer safety label before use. Never exceed the manufacturers maximum load for each individual ride. ADULT SUPERVISION REQUIRED AT ALL TIMES.
FREE DELIVERY. NO HASSLE.
Price includes delivery, Setup, and pick-up. We do not charge any additional fees. All units are properly anchored, and we sanitize them again during setup. *Free delivery up to 10 miles
For a true adventure, strap on an eye patch and pirate's hat and captain this Pirate Ship toward an exciting experience. Everyone will be shouting "Ahoy" once they come across this awesomely outrageous inflatable. Magic Jump's Pirate Ship is truly a treasure of a product. With a 10-foot tall climb and slide, an open bouncing area and crawl through barrels, this ride is a load of fun. Even the most fierce pirate will be humbled by this ride. The Pirate Ship is enclosed with high inflatable walls and a side entry to provide optimum safety for riders. The wall climb and slide are also separated by an inflatable wall. As a red Pirate Ship with designs resembling a true "at-sea" scene, this ride is sure to stand out anywhere. The Pirate Ship is a popular product for rental businesses. Little boys everywhere have enjoyed exploring their imaginations as a pirate thanks to movies popularizing the concept. This ride is perfect for pirate themed events, as it truly completes the scene for a pirate's party. Indoor play centers that cater to private parties will benefit from offering a Pirate Ship as a unique party theme attraction. Magic Jump ensures that any business that invests in this product will enjoy its use and service for years. It is made with premium industry vinyl for durability and proper functionality. The Pirate Ship is also approved for safety by strict New Jersey and Pennsylvania state guidelines. It serves as a great way to entertain party goers for hours while encouraging physical activity. Be sure to set sail with a Pirate Ship to explore the hidden treasures of business success.
Delivery and pickup times are scheduled based on your event. Select a delivery time at least 1 hour before your event start time. Next morning pickup is for late events, and available with an additional fee. Next morning pickups are generally done between 8am and 12pm.
It is the customers responsibility to measure the setup location to make sure rented product will fit.
Cancellations must be done within 72 hours before the rental date or else a cancellation fee up to the entire rental amount may apply. Exceptions are made for cancellations on Rainy or Inclement weather days. Maximum 10 Stairs allowed to the setup location, a setup fee will apply.
**There is a cleaning and handling fee for setup on sand.
Payment Methods: Credit Card (3.9% Surcharge), Zelle, Cash.