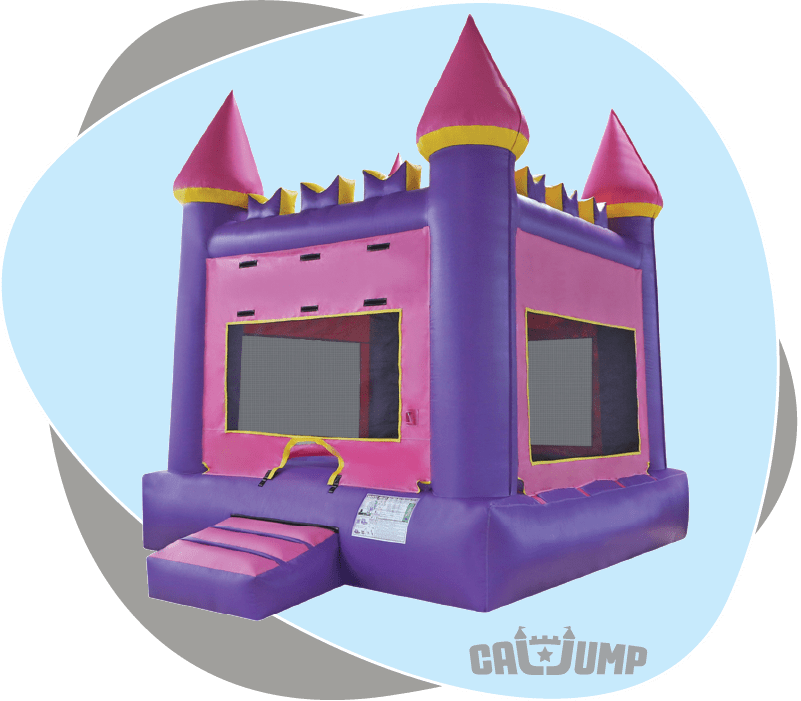 Call or text for a price quote
*Some information on this page could be missing or incorrect. Review manufacturer safety label before use. Never exceed the manufacturers maximum load for each individual ride. ADULT SUPERVISION REQUIRED AT ALL TIMES.
FREE DELIVERY. NO HASSLE.
Price includes delivery, Setup, and pick-up. We do not charge any additional fees. All units are properly anchored, and we sanitize them again during setup. *Free delivery up to 10 miles
This enchanting Pink Castle Bounce House will win over the heart of any princess. Our 10'x10' Pink Castle Bounce House is brightly colored with purple and pink vinyl that is made and fit for a princess. Feel like royalty in the Pink Castle, that everyone can enjoy. As a 10'x10' bounce house, this Pink Castle can safely accommodate up to four riders at a time. The 10'x10' bounce house is great for all ages. The Pink Castle is approved for safe use under New Jersey and Pennsylvania state guidelines and its durability is ensured by Magic Jump, as it is made with top-quality vinyl and is assembled to last through years of use and service. The entertainment will never stop with a Pink Castle bounce house around, it is a classic ride that is fun and suitable for all occasions.
Delivery and pickup times are scheduled based on your event. Select a delivery time at least 1 hour before your event start time. Next morning pickup is for late events, and available with an additional fee. Next morning pickups are generally done between 8am and 12pm.
It is the customers responsibility to measure the setup location to make sure rented product will fit.
Cancellations must be done within 72 hours before the rental date or else a cancellation fee up to the entire rental amount may apply. Exceptions are made for cancellations on Rainy or Inclement weather days. Maximum 10 Stairs allowed to the setup location, a setup fee will apply.
**There is a cleaning and handling fee for setup on sand.
Payment Methods: Credit Card (3.9% Surcharge), Zelle, Cash.